Next event coming up soon. You will learn diverse techniques to preserve and store various types of foods through practical examples. Such as water bath & pressure canning, cheese waxing, vacuum sealing, dehydrating, how to start your own pantry, freezing, glassing eggs & how to store food optimally. The homesteading workshop is only an introduction and this practical workshop is a much more detailed look at all these skills.
Please Book Now as Spaces are very Limited. More Details & Previous Attendee Reviews Below!
Suitable for Beginners & Advanced – Watch Videos Below!
Subscribe to our email list for weekly updates:

Tickets include access to all workshops from 12pm to 5pm with an hour of a break from 2-3pm. Notes and snacks will be provided.
Location: Knockcroghery Co. Roscommon, Ireland
Further details will be emailed within 24 hours of purchase of tickets.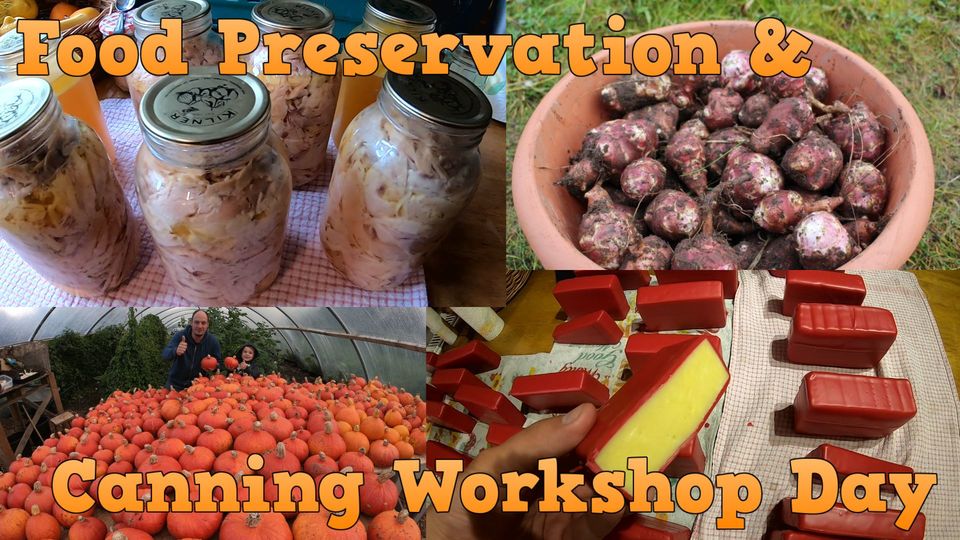 Reviews:
Vanessa & Mike – Thanks Martin and Bianca for a great afternoon. Very informative and welcoming as usual. We have enjoyed all your workshops.
Orla – Thanks Martin and Bianca! It was a great day and loved the range of topics, that way you cover some of what people are already interested in and surely introduce something new too.
Geraldine – Thanks so much for such a wonderful, informative and inspiring workshop last Sunday. We have been growing etc for more than 20 years but there is always something new to learn and I took away loads of new info to get my teeth into!
margarets_kitchen1 – Outstanding altogether. So inspiring. Very well done Martin and Bianca. 👏
Grainne said: Had an amazing afternoon in Martin's and Bianca's gardens. Martin shared his vast knowledge of plants, trees, shrubs and gardening experience with all of us in such a pleasant manner. Martin was willing to answer all our questions. We all came home with plants, cuttings and the know how of how to start a No Dig garden. I will definitely be back.
Kieran said: I had so much fun on Gardens For Life Walk'n Talk and learned so much about no dig gardening. Martin has a wealth of knowledge and is so generous with sharing it. Both Martin and Bianca are so welcoming and their enthusiasm for no dig is infectious!
Marian said: What a great workshop! Plenty of hands-on learning about propagation and growing seeds. There is so much to see around you too – so many different plants! Martin is very knowledgeable; you learn about far more than the original topic. Martin and Bianca (and Jacob) are really welcoming . Thanks for a great day!
Sasha said: It's always a pleasure to connect with Gardens For Life whether buying online, taking part in a seed swap or attending workshops. Martin and Bianca offer a wealth of no dig knowledge and an abundance of great quality cuttings, plants and seeds. Their enthusiasm, generosity and 'keep it simple' approach inspires me to experiment outside my comfort zone. I also appreciate the community being created around self sufficiency and growing food, not lawns!"